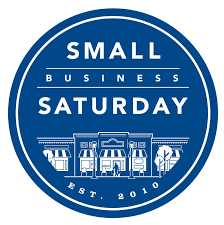 You hear a lot about Black Friday, but how many of us are familiar with Small Business Saturday?
According to Wikipedia: "First observed in the United States on November 27, 2010, [Small Business Saturday] is a counterpart to Black Friday and Cyber Monday, which feature big box retail and e-commerce stores respectively. By contrast, Small Business Saturday encourages holiday shoppers to patronize brick and mortar businesses that are small and local."
As a small town that sits one hour from the nearest "big box store", Small Business Saturday just makes sense for Republic, its businesses and its inhabitants. Not to mention that your dollars spent locally go back into the community and help it thrive.
Republic is host to many small businesses that can add to your holiday shopping experience and help you check items off your list. The best part? All of these businesses are located on one main street, Clark Avenue! You can grab a coffee at Sparky's, head down Clark Avenue, and refuel with a second coffee and a muffin at Java Joy's.
Here's a short list of some of our incredible small businesses in Republic:
Anderson's Grocery: 711 S. Clark Avenue, offering Food, flowers, cards and more
Tagg's Raggs: 662 S. Clark Avenue, Clothing, shoes, jewelry and more
The Outfitters: 56 N. Clark Avenue, Clothing, workwear, shoes and craft supplies
Republic Brewing Company: 26 N. Clark Avenue, Brewery-inspired gifts and gift cards
Ferry County Co-op: 34 N. Clark Avenue, Natural, sustainable gifts, from gourmet coffee to coloring books
Sparky's Coffeehouse: 64 N. Clark Avenue, Coffee and gifts for the home
The White Lily: 655 S. Clark Avenue, Flowers and gifts for all occassions
Gold Mountain Gallery: 852 S. Clark Avenue, Local artists on display, gifts of all kinds
Java Joy's Showhouse: 1015 S. Clark Avenue, Vintage inspired gifts, coffee to fuel your shopping, and more
Freckles Gourmet BBQ: 18 N. Clark Avenue, Local wall art and various crafts on display for sale
Republic Drug Store: 6 N. Clark Avenue, Local books, jewelry, gifts for the home and more
Wolf's Den Craft & Hobby: 27 N. Clark Avenue, Art, craft and hobby supplies for adults and kids
For a list of more local businesses and services, check out our Visitors page here.
And while you're out and about, don't miss out on the Holiday Homecoming festivities! Tree lighting, caroling, shopping, fun for the kids and more! For more information, click here.
We hope to see YOU supporting your local businesses and meeting your neighboars on Small Business Saturday, November 25th!