Ulrich Semrau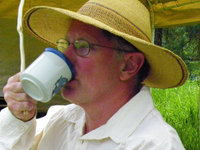 Republic has an official resident City Philosopher and as far as we know the only one of a town in the United States. Philosophers think deeply about many things and he will get you to think about interesting things by the questions he asks.
Philosophers tend to talk about big questions such as how did we end up in Republic Washington? When you arrived in Republic you can find the Philosopher often at the Ferry County Co-Op or the Republic Brewery next door.
He invites you to join him for a cup of good coffee or excellent microbrew beer and discuss the big questions of the day. You might even get him to go fossil hunting at the world famous Stonerose fossil site and talk about how that darn fly got itself caught in the rock 65 million years ago.
Republic is a great place to visit and even to live. Having a town philosopher helps to give the place character, because he is one.