Festival of Health and Town Hall Meeting to Prevent Teen Drinking and Driving
October 19, 2016 @ 5:00 pm

-

9:00 pm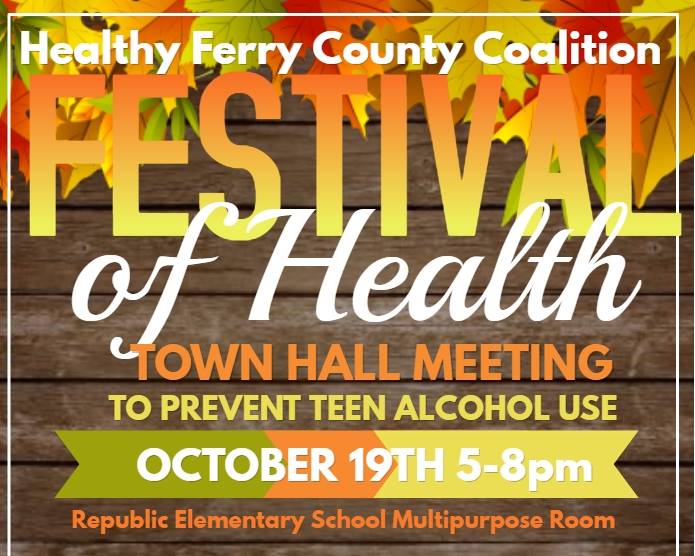 Darren Mattozzi's story is one of personal triumph and hope following a devastating tragedy in his life. After a great phone conversation with his brother Damon, Darren went on with his night as usual at work. But what he didn't know is that his conversation with Damon would be the last time he would hear his brother's voice.
Darren's presentation, A Brother's Endless Journey, is a tragic but touching tribute to his brother Damon. After working for the National Office of Mothers Against Drunk Driving, Mattozzi is now the Coordinator for the Reardan Edwall Communities Alliance for Prevention coalition where he works to prevent underage alcohol and drug use. Hear his riveting story at the Town Hall Meeting to prevent teen drinking and driving, Wednesday, October 19th , at 6 p.m. at the Republic elementary school multipurpose room.
Enjoy a Festival of Health immediately before the Town Hall Meeting where information about health promotion resources and services available for children to senior citizens will be available. More than a dozen community organizations will showcase current initiatives and offer activities for kids and families. Every attendee receives a free door prize ticket. Plus, visit each coalition partner organization and earn additional raffle tickets by participating in activities, surveys or receiving information! There will be 15 opportunities to win, music and food available for purchase.
Participating organizations include Fostering WA, Better Health Together, the Republic Chamber of Commerce, Ferry County Search and Rescue, Ferry County Doula, 4-H Tech Wizards, Tri County Health Department, Supportive Services for Veteran Families, Job Corps, Boy Scouts of America, the Ferry County Public Hospital District, Northwest Medstar, the US Border Patrol and Rural Resources Victim Services.
Doors open at 5 p.m. Funding for the Town Hall Meeting provided by a grant from the Substance Abuse and Mental Health Services and a WA State Division of Behavioral Health and Recovery, Community Prevention and Wellness Initiative grant. The Festival of Health and Town Hall Meeting is sponsored by the Healthy Ferry County coalition. For more information about the Healthy Ferry County Coalition, contact Dave Iverson, acting coordinator, at 509-220- 1701, dave@ivtech.onmicrosoft.com.